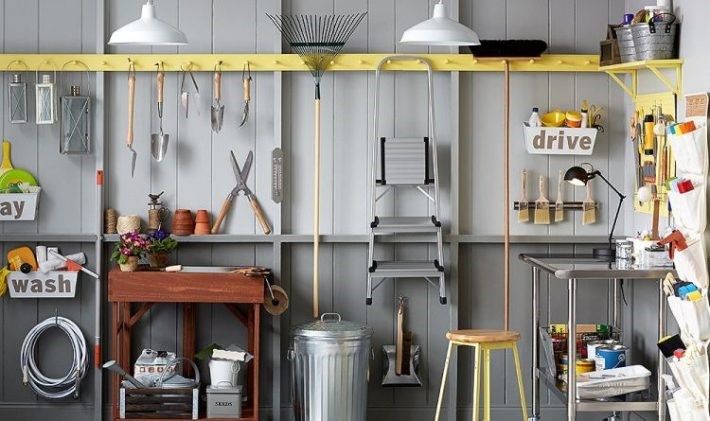 The warehouse is a place in the house that is often neglected but has an important function. So that an attractive room design can beautify a dwelling so it doesn't look messy. It's the same when you choose a house, of course you are looking for an attractive and neat residence.
As a place to store goods, warehouse designs are often overlooked. Even though creating an attractive warehouse design is also needed. There are various forms of warehouse designs that can be applied. But what we will discuss in this article is a minimalist warehouse design. Here's the inspiration:
1. Minimalist Back Area of the House
A shed in the area behind the house can be an option for occupancy with limited land. You can enhance the design with a minimalist touch and an additional cupboard or table to store goods. A touch of greenery can also give freshness to the look of this room.
2. Minimalist Part of the Attic of the House
If your residence has an attic, instead of neglecting it, you can design it into a warehouse with a minimalist concept. Choose a floor that has strong resistance so it is not easily damaged. And add some windows to provide air circulation in this room.
3. Minimalism Near the Kitchen
You can use the area near the kitchen as a warehouse or storage area for goods. Add shelves or cupboards with stairs so you can store items at the top. You can also add a wooden table to enhance the appearance of this room so that it looks neat and aesthetic. Choose the color of the warehouse wall with a plain color to give a broad impression.
4. Minimalist Side Door Area
If your residence has access to a side door, this area can be used as a storage area or warehouse. To beautify the warehouse area with a minimalist touch, add some displays or chairs with decorative pillows. In addition, you can add hangers to hang items that can be hung.
5. Minimalism in the Ceiling of the House
You can make the ceiling of the house a place to store goods or a warehouse. You can provide a little space or cupboard at the top to store items that are not too large. Choose a ceiling material that is strong so that it is not easily damaged by piles of goods and can withstand heavy loads for a long time.
6. Minimalism under the stairs
For occupancy with limited land, a minimalist warehouse design under the stairs is perfect to apply. Utilizing the area under the stairs as a storage area is one of the most effective ways. Besides not taking up too much space, unused items can also be stored neatly in a safe place.
7. Minimalism Blends with the Garage
If you don't want to make a warehouse in the house, a garage can be the right choice. Utilizing the garage as a storage space is widely applied to residential areas in western countries. Arrange storage shelves and arrange the items you want to store to make them look neater and orderly.
8. Minimalism in the Corner of the Room
If there is a small corner of the room at home, you can use it as a warehouse. Add vertical stacking cabinets so that storage does not take up much space and narrow your home. You can make it as high as possible to the ceiling for more storage space.
9. Minimalist Warehouse Design in the Basement
Basement can also be a storage area. Especially if the residential area is limited, the bottom of the floor can be a safe place to store your unused items. But don't forget to always clean this area so that your things don't get damaged.